Dr. Supple is a Preferred Provider of the Invisalign® technology which takes a modern approach to straightening teeth. It is a state-of-the-art, revolutionary system that utilizes 3-D computer generated graphics to create custom-made series of aligners.
Invisalign® is comfortable, convenient, and is virtually undetectable by other people. It is a great alternative to traditional braces. There are no metal brackets to attach and no wires to tighten. You just pop in a new set of aligners approximately every two weeks, until your treatment is complete.
Appointments are scheduled every six weeks to deliver your new set of aligners. In most cases, you will be given three sets to change out on your own at home. Your visits will take 15 to 30 minutes which makes it very convenient for an on-the-go person.
Invisalign® can not only give you a more beautiful smile, but it can also align your teeth to create a better bite. Over time, gum tissue surrounding misaligned teeth can start to capture bacteria and cause gum disease. The same breakdown can happen to the teeth's eating surfaces. If you put too much force on misaligned teeth, it can result in heavy wearing, micro cracks in the enamel, sensitive teeth, and active chewing muscles that cause you to clench.
WITH INVISALIGN® YOU CAN . . .
Feel confident everywhere you go!
Remove aligners for special occasions or events.
Remove aligners to brush and floss.
Correct bite issues and excessive teeth wear.
Enjoy a beautiful smile, healthy gums, and functional chewing!
Our office staff is trained to answer any question that you may have regarding your first step towards a new smile and a better bite. Call today to set up your initial consultation to find out if Invisalign® is right for you!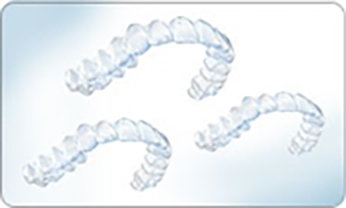 "Growth development, function and adaptation is unique to every patient. Transferring that knowledge to the heart of therapy is a quest for excellence that never ends."
Dr. Robert C. Supple
Our Mission Statement
It is our goal to provide total health and wellness solutions that exceed the expectations of our patients.